Last update:
Created :
Written by Thomas Speekenbrink
Overview:
The service.ini is an essential file for the Synchronizer to work correctly. Read this article to create a better understanding about the functionality of this file.
Tips:
So lets first take a look how a typical Service.ini looks like.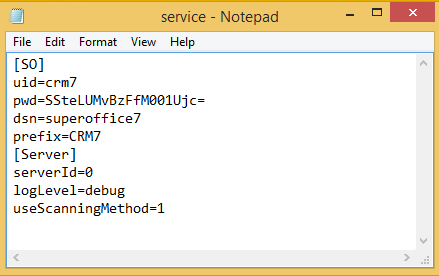 [SO]

Section header for SuperOffice related parameters

uid=crm7

SuperOffice user which is set up as database user (in this example CRM7)

pwd=SSteLUMvBzFfM001Ujc=

pwd is the encrypted password for the SuperOffice database user

dsn=superoffice7

The DSN is the ODBC connection name for the SuperOfficedatabase connection (in this example superoffice7)

prefix=CRM7

Prefix is the SuperOffice database table prefix (in this example CRM7)

[Server]

The Server parameters which are related to the Synchronizer

serverId=0

serverID displays the rank this service is set for. This was introduced in version 3.2.88. Read more about rankings in the Related Articles.

logLevel=info

Set the logging level for the Synchronizer service. Options: info (informational) / warning (informational & warning) / debug (informational, warning & debug).

useScanningMethod=1

This was created when in very specific situations we noticed issues with the ICS folder. When this option is set to "1", no ICS files are created. This will create extra load on the Exchange server. Do not use in normal situations!
Extra Parameter
language=GE

Use a different language for the Synchronizer service. Enables you to synchronize Follow-up types in different languages. GE = German. Use 2 Letter codes to force other languages. Place this under the [SO] section if needed.