Last update:
Created :
Written by Support InfoBridge
Overview
When using an InfoBridge product for the first time, product registration is necessary. All product registrations are done over the internet. A working internet connection is required at least once.
Make sure the server/workstation where the product is installed has access to the hostname: licensing.infobridge.com over TCP port 80 (HTTP).
How to
Download and install the desired product by following the on-screen instructions of the downloaded program. Download the products from the download page.
The license manager is installed in the newly added menu item in your start menu.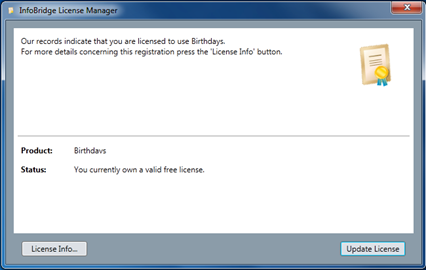 Press the Update License button to retrieve your personal license.
The following information is shown.
Comment : Generic information
Product : Product name
Status : License information
License Info
A window will open containing the information below :
Status
Type
Registration Date
Expiry Date
Next Online Update
Licensed users
SuperOffice Serial Number
Update License : This will retrieve the license key through the internet.
Get full license after evaluation
When you have decided to purchase the product and the payment has been processed, you can retrieve your full license by starting the license manager and pressing the 'Update License' button.
Allow 5-10 business days for processing international money transfers.
NOTE
Please contact your local selling partner first to get information about the most actual payment status.
Instant full license
If our financial records indicate that your payment has been processed prior to installing the product, retrieving the license by pressing the "Update License" button will give you a full license right away, no further action is required.
Firewall exception
All our software products try to validate the license with our license server. But in some cases, the server has limited or no connection to the Internet. It's preferable to have some connectivity, so your license is always up to date.
Please add a firewall exception to the hostname licensing.infobridge.com on TCP port 80 (HTTP). This will make sure the activation and revalidation process runs smoothly.