Last update:
Created :
Written by Support InfoBridge
Overview
The personal version of the Google Synchronizer for SuperOffice CRM can be installed in two different ways:
G Suite mode
Regular mode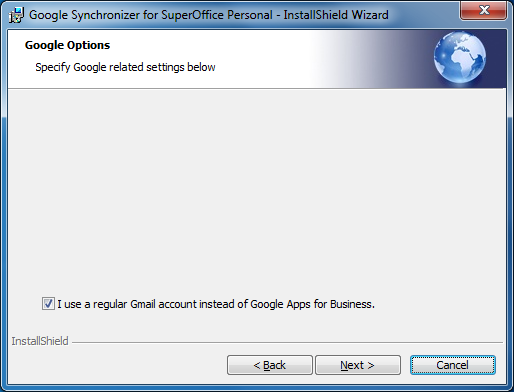 Tips
If your company does not use G Suite the checkbox needs to be checked, indicating you own a regular Gmail account.
Google described the different account types as such:
"Although Google Apps and Google Accounts allow you to access several of the same Google products, they're different types of accounts.
A Google Account is a unified sign-in system that provides access to a variety of free Google consumer products -- such as Gmail, Google Groups, Google Shopping List, Picasa, Web History, iGoogle, and Google Checkout -- administered by Google.
Google Apps provides access to products powered by Google but administered by your organization."
Please refer to the Google help pages for more information:
https://support.google.com/accounts/answer/72709?hl=en
Technical details:
If Regular Mode is selected in the installer the shortcuts in your start menu will have an additional parameter: /GP
This will set the Synchronizer Client and Admin to Regular Mode, removing specific Google Apps options.