Last update:
Created :
Written by Support InfoBridge
Overview
When you use the Outlook Online Synchronizer and start the Sync Admin or the Synchronizer, you might be presented with this error:
Unable to verify license registration!
Message: Product data file with hash 'xxxxxx' was not properly initialized. Please check the incorrect files and try to restart.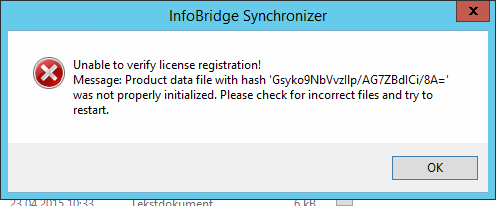 Even though you have a valid license this might happen.
How to
This is a common mistake and is easy to solve.
The SyncAdmin and/or the Synchronizer was started in "Exchange" mode. This will throw this error. Check the shortcuts for the Synchronizer and SyncAdmin and add the /P parameter (stands for Personal mode) after the .exe file.