Last update:
Created :
Written by Support InfoBridge
Overview
In the Technical settings you have retrieved the settings, both the EWS as the OAB.
The test connection is succesful for only the EWS. The OAB test returned a 404 / 403 Unauthorized error.
Solutions
OAB empty/ not available
This is because the Offline Address Book is empty or not available. You can test this by browsing to the OAB using the Exchange Offline Address Book Url:
https://www.<Domain>/OAB/<Mailboxfolder – ex. 06c30eh0-f738-4f2a-896c-335ef18g1667>/OAB.xml
Update OAB
Another reason it can not be reached might be because it is a new installation. The OAB will only be updated once per day.
If you can reach the Management Console, go to the Offline Addressbooks and click on Update.
Updating the OAB is also possible through the PowerShell console … via the command 'Get-OfflineAddressbook | Update-OfflineAddressbook'

As a fallback you can add the Synchronizer users to the addressbook of the SyncUser through the OWA (Outlook Web Access). These will be loaded when the OAB is not available.
when the error persists
What to do when the error persists?
Open the Explorer on the Exchange server and browse to Microsoft\Exchange Server\V14\ClientAccess\OAB

This folder was empty?
Restarting the service MS Exchange System Attendant did not fix this?
Go to Microsoft\Exchange Server\ExchangeOAB and copy the folder

Paste it in the V14\ClientAccess\OAB folder
Check if the name of the folder is the same as in the OAB URL in the Technical settings of the Exchange admin. If not change it in the Sync admin
Test the connection again and it should now work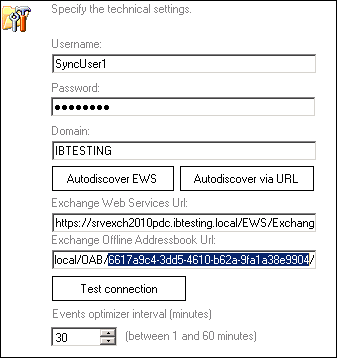 It can also be that the OAB is not set to load the global address list, you can check this on the Exchange server:
Open the Microsoft Exchange server
Go to Organization Configuration and to the Mailbox
There click the tab Offline Address Book
This will open a window, where you click the Address Lists tab
If both are ticked, please ensure that only Include the default Global Address List is ticked