Last update:
Created :
Written by Support InfoBridge
Overview
When trying to install the Synchronizer service, you might encounter Error 1923 when installing the Synchronizer. The full error message is:
Error 1923. Service InfoBridge Synchronizer v3 (InfoBridge.Synchronizer.Service) could not be installed. Verify that you have sufficient privileges to install system services.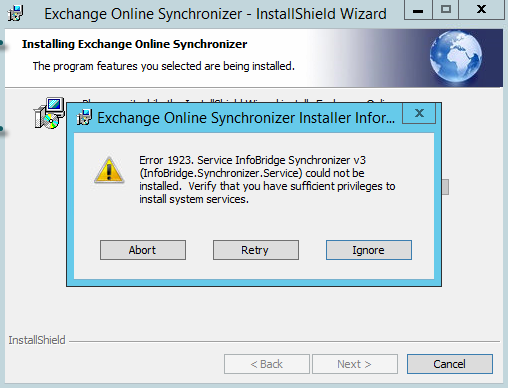 How to
There might be a number of causes for throwing this error, check/try this first:
Run the install file using the "Run as Administrator" feature
Make sure that the domain account you are logged in with has (Domain) Admin rights, or at least rights to install a Windows service on the Synchronizer server
Add the Log on as a service Right to an Account, more info