Last update:
Created :
Written by Support InfoBridge
Overview
When logging into the Synchronizer GUI or Admin, you will need a valid SuperOffice /database account to login successfully. It might happen that the credentials aren't accepted or validated, throwing this error message: Incorrect user ID or password.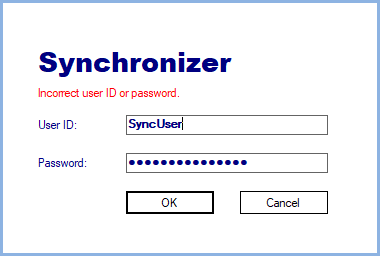 How to
Below are a couple of pointers to check but since most of these login issues come after upgrading SuperOffice and the Synchronizer, the best advise is to remove the current Synchronizer installation by uninstalling it through the Programs & Feature option in the Control Panel. After this clean the synchronizer installation folder and run the Setup as admin.
Check if the username and password are correct

Check if the SuperOffice Windows client has been installed on the server, only when you use SuperOffice 8.3 or older, more info
Check if the ODBC connection is functioning (open odbcad32 and perform the test for the ODBC connection)
Check the superoffice.ini file for the SO_ARC location and try to open / access this (in the installation directory of the SuperOffice Windows client)
Check if AD authentication is used (instead of SuperOffice accounts), if so, log in with the correct user which belong to that email address. Or change the settings from another AD account
Check if the user has a SuperOffice Windows client license
Check if the user account has a userlevel 0 or similar (check for Functional Right: General Administrator)
The user should be logged on to the Central Database
If you still are unable to login to the Synchronizer Admin, please contact our Support department here.