Last update:
Created :
Written by Thomas Speekenbrink
Overview:
You might have seen the "Unable to locate the server settings" in the debuggin logfile.txt when using the Exchange (Online) Synchronizer, but were unable to solve the issue.
Alongside this error message, you will also notice that the Synchronizer GUI and Service will not run.
How to:
The reason behind this error is a misconfiguration in the settings. When this error occurs, you will be using Ranks (multiple configurations). The error message basically says that the Technical Settings for the specific rank could not be found.
Usually we notice that a shortcut to the Synchronizer Admin with the correct parameters is missing. Create a new shortcut (or change the existing one) and make sure that the shortcut contains:
/RANKED /Sx (where x is the correct Rank).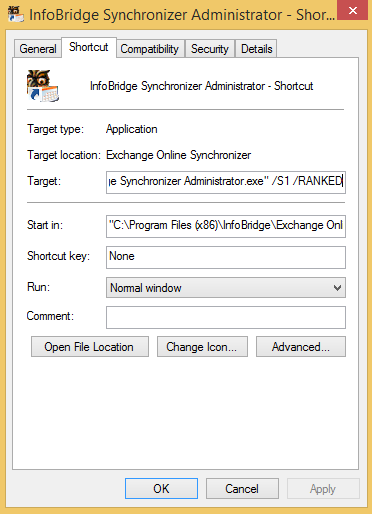 Then startup the Synchronizer Admin
Check the Technical Settings (you will see a missing configuration for the rank you tried to run)
Create a new entry by clicking Add and make sure the Test Connection button is working correctly
Apply the settings
Run the GUI or Service again